31 August 2023
premiere lyric video for epic 'Cancel Culture' song; first leg of »Code Red« European tour starts tomorrow; new studio album due out on September 1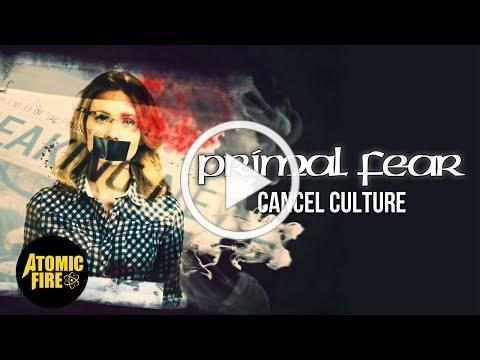 Fans of German metal commandos PRIMAL FEAR, listen up - »Code Red« is (almost) here! As the band's critically lauded studio album is about to be unleashed upon the world tomorrow -- Friday, September 1, 2023 -- via Atomic Fire, followed by part 1 of a supporting European tour comprising 8 German/Swiss shows, they have prepared a final appetizer before their listeners can finally dive into the new offering. Accompanied by a captivating lyric video created by Ingo Spörl (Hard Media; https://hard-media.com/),PRIMAL FEAR present 'Cancel Culture,' a track about a special topic that has been heavily discussed in recent years.

Producer/bassist Mat Sinner says: "There are countries where you just disappear if you speak your mind. These are intolerable conditions. But I'm not backing down. I've always been a rebel; I don't want to conform. And I don't have to play in certain countries either. It's that simple."

"The way the culture of having discussions with each other has gone down the drain, has become unbearable. People tend to have no more respect for each other and that's a dangerous development and perspective. It's the same sad development with all these "keyboard warriors" out there who hide behind a made up user name to release their hate, jealousy or frustration. I will never take this as a "Welcome to the Internet" invitation, it's simply a NO GO!" adds front-man Ralf Scheepers.

Check out 'Cancel Culture' over on YouTube:
https://www.youtube.com/watch?v=a0RdyH99LsQ
Stream/purchase the song:
https://primalfear.afr.link/cancelculturePR

(Pre-)order »Code Red« in the physical format of your choice (see below!), stream it on your favourite DSP from tomorrow or (pre-)order it digitally: https://primalfear.afr.link/coderedPR

More on »Code Red«:
'Deep In The Night' OFFICIAL MUSIC VIDEO:
https://www.youtube.com/watch?v=g7mT9i7_PnU
'Another Hero' OFFICIAL MUSIC VIDEO:
https://www.youtube.com/watch?v=JUISvCi3hyA

Don't forget to subscribe to Atomic Fire Records on YouTube to stay updated & to listen to 'Cancel Culture' as well as other new tracks in the »AFR New Releases« playlist onSpotify: https://afr.link/spotifynewreleasesPR

The album is available in the following formats:

- Atomic Fire Records mailorder exclusive bundles (cd-digipak, vinyl, t-shirt, lighter)
- CD-digipak
- 2LP in gatefold (various colours)
- digital

»Code Red« - Track Listing:

01. Another Hero
02. Bring That Noise
03. Deep In The Night
04. Cancel Culture
05. Play A Song
06. The World Is On Fire
07. Their Gods Have Failed
08. Steelmelter
09. Raged By Pain
10. Forever
11. Fearless

The album was produced by bassist/vocalist Mat Sinner and co-produced by vocalist Ralf Scheepers as well as guitarist Tom Naumann before long-time PRIMAL FEAR companionJacob Hansen took care of its mixing and mastering at his own Hansen Studios inDenmark once again after being recorded in Kempten, Germany at Sebastian "Basi" Roeder's Backyard Studios, with helping hands of Scheepers and Mitch Kunz. Additionally, Stan W. Decker (»Angels Of Mercy - Live In Germany« (2017),»Apocalypse« (2018), and »I Will Be Gone« (2021) by PRIMAL FEAR etc.) provided magnificent artwork.



---

PRIMAL FEAR live:

Info & Tickets: https://primalfear.de/tour

»Code Red« European Tour - Part 1
w/ THE UNITY
Presented by Radio Bob!, Metal Hammer, Rock It!, Metaltix,
musix, Level10Music, Break Out, ITM & Atomic Fire
01.09.2023 DE Stuttgart - Im Wizemann (Halle) [TICKETS]
02.09.2023 DE Memmingen - Kaminwerk [TICKETS]
03.09.2023 DE Naila - Frankenhalle [TICKETS]
05.09.2023 DE Munich - Backstage (Werk) [TICKETS]
06.09.2023 DE Bochum - Zeche [TICKETS]
07.09.2023 DE Frankfurt - Batschkapp [TICKETS]
09.09.2023 CH Sion - Le Port Franc [TICKETS]
10.09.2023 CH Pratteln - Z7 [TICKETS]

Venus Concerts proudly presents:
»Code Red« Latin American Tour 2023
21.10.2023 BR São Luís - Maranhão Open Air [TICKETS]
22.10.2023 BR Brasília - Toinha Brasil Show [TICKETS] *NEW*
26.10.2023 BR Curitiba - Tork 'n Roll [TICKETS]
28.10.2023 BR Limeira - Mirage Eventos [TICKETS]
31.10.2023 AR Buenos Aires - Arena Sur [TICKETS]
01.11.2023 CL Santiago - Blondie Club [TICKETS]
04.11.2023 CR San José - Pepper Club [TICKETS]
05.11.2023 CO Bogotá - Ace of Spades-club [TICKETS - COMING SOON!]
07.11.2023 PE Lima - CC Festiva [TICKETS - COMING SOON!]
10.11.2023 MX Monterrey - Mexico Metal Fest [TICKETS]

»Code Red« Japan Tour 2024
30.01.2024 JP Tokyo - Spotify O-East [TICKETS]
31.01.2024 JP Nagoya - Club Quattro [TICKETS]
01.02.2024 JP Osaka - Umeda Club Quattro [TICKETS]

More dates to be added soon...!
---